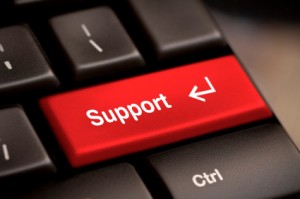 Are you tired of paying for a computer service contract without getting any service?  Are you 100% sure that you can recover from a server or computer crash?
  Technology can work in either two ways:
it can give rise to a more profitable, efficient and successful organization or it can be a pain in the neck using up your precious resources. Companies have confidence in us to install and support their organization's computer network technology and cloud-based solutions.
Expect Tech Solutions Now to:
Spend the time necessary to consider your business requirements, your needs, and your budget give and then deliver the IT services you want–NOT what we want.
Take advance action with computer support to avoid disastrous data loss and down time.
Remote Monitoring & Management
We monitor and manage your systems 24/7
Covers in-office as well as remote/home office computers
Predicative analysis and alerting helps prevent downtime
Alerts are sent via email/SMS for the early warning of problems
Priority scheduling is provided to address identified issues
Asset Tracking, Inventory Management, and Management reporting
Windows, Mac, & Linux all supporting in one cohesive dashboard
Integrated managed anti-virus and anti-malware (see below)
Integrated managed online backup (see below)
Optional remote control (or use our enhanced version of LogMeIn Free)
Easy, one file installation that can also be done via group policy
Managed Antivirus
Free installation via our remote management dashboard
Monitor, manage, report and automatically ­fix virus threats
Eliminate the hassles of anti-virus license renewals and varied renewal dates
Protects both workstations and servers
Managed Online Backup
Free installation via our remote management dashboard
Encrypted files are transferred to secure cloud storage
Local backup copies are kept for added protection and instant restores
Saves multiple versions of critical business files
Protects both workstations and servers
No more tapes, CDs, or hard drives to catalog and store offsite